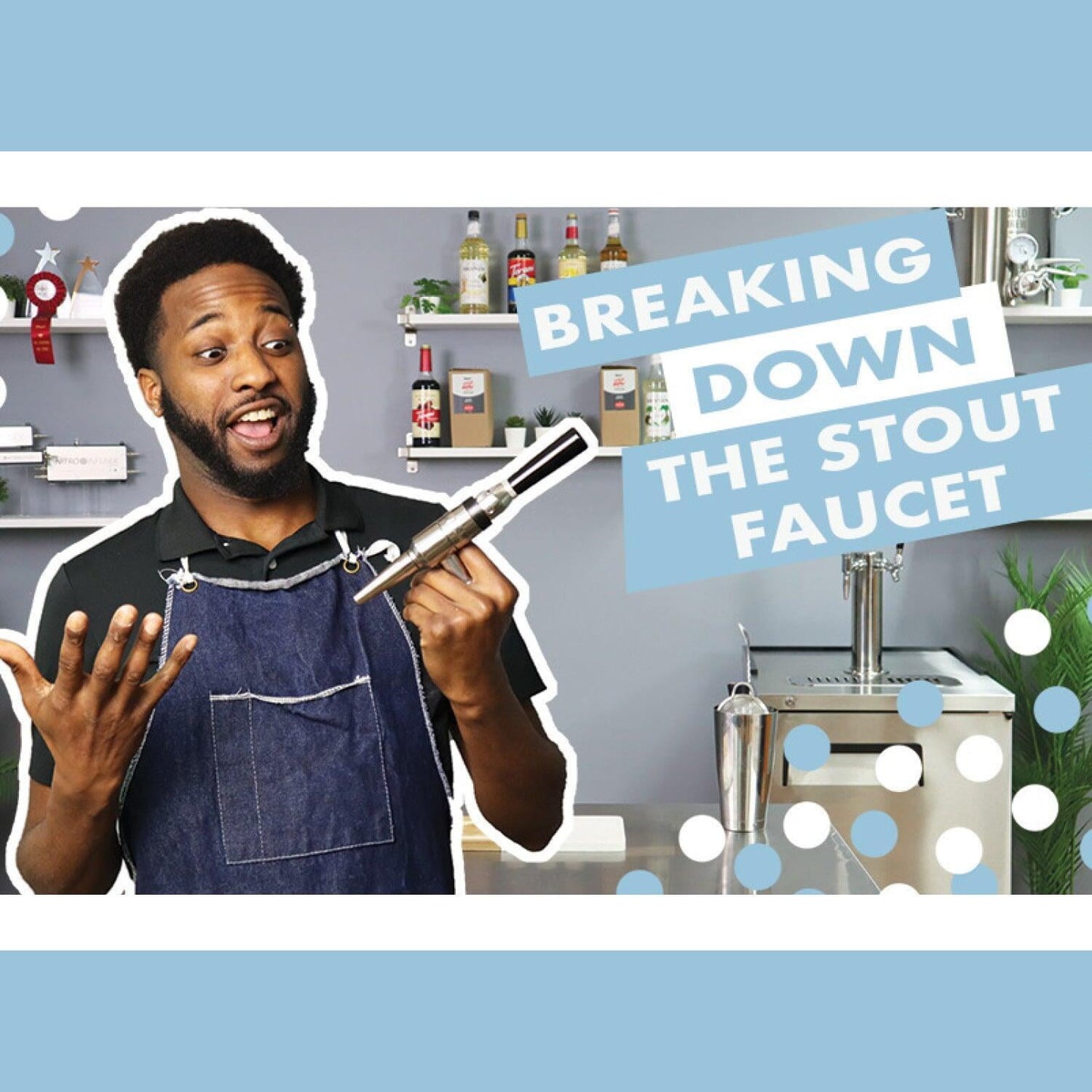 Yes, the faucet is the point in your draft system that pour the beverage. Beyond that, the stout faucet is intended to restrict the flow of the beverage to provide an optimal cascade and head of microfoam.
Components of a Stout Faucet
At a high level, your stout faucet is made of: 
Gasket: 

The stout faucet has threads to connect to your tap tower. Looking inside that area of the faucet body, you will find an o-ring. This o-rings creates a seal to prevent leaking at the tower connection.

Faucet Handle:

 The faucet handle is the spring-loaded lever to draw the beverage from your keg. This is also where a tap handle is attached, which is an excellent opportunity to showcase your brand.

Body & Faucet Nozzle:

 

The faucet nozzle attaches to body of your stout faucet. Within the nozzle you will find: 

O-Ring: Creates a seal between the faucet body and the faucet nozzle 
Restrictor Plate: The restrictor plate is the secret sauce for your desired cascade and thick head of microfoam. The small steel plate accomplishes this by sending the beverage through five small holes. Note: When putting your nozzle back together, you will find one side of the restrictor plate has larger holes than the other. The larger holes should be facing up. 
Regulation Cone: Plastic cone to direct the beverage out of the faucet
Rinse your faucet nozzle daily.
Stout faucets are easy to maintain. As long as you're cleaning your draft lines regularly and rinsing your stout faucet nozzle at the end of each day (or shift!), you will be in good shape.
Leak at the tower: There could be sediment build up in your gasket. Remove the entire faucet and soak in your 

desired cleaning solution

.

Difference in pour: If your pour is slower than usual, sputtering, or the head is too much / too little, changes are the stout faucet nozzle has built up sediment (like coffee grounds)  and one or more of the five holes in your restrictor plate are blocked. You can assess this by removing the stout faucet nozzle and shining a flashlight up through it. If you cannot see five holes, soak the nozzle in warm water and cleaning solution. Another good tactic is soaking the nozzle in carbonated water, as the rising bubbles may help loosen the sediment.
Nitro Infused Coconut Mocha 
 .25 oz Monin Coconut 

.25 oz Torani Chocolate Milano 

 1.5 oz Pacific Barista Series Oat 
 6 oz Nitro Infused Cold Brew Chocolate Shavings 
Combine syrups and oat milk in glass. Stir. Add nitro-infused cold brew. Top with chocolate shavings.