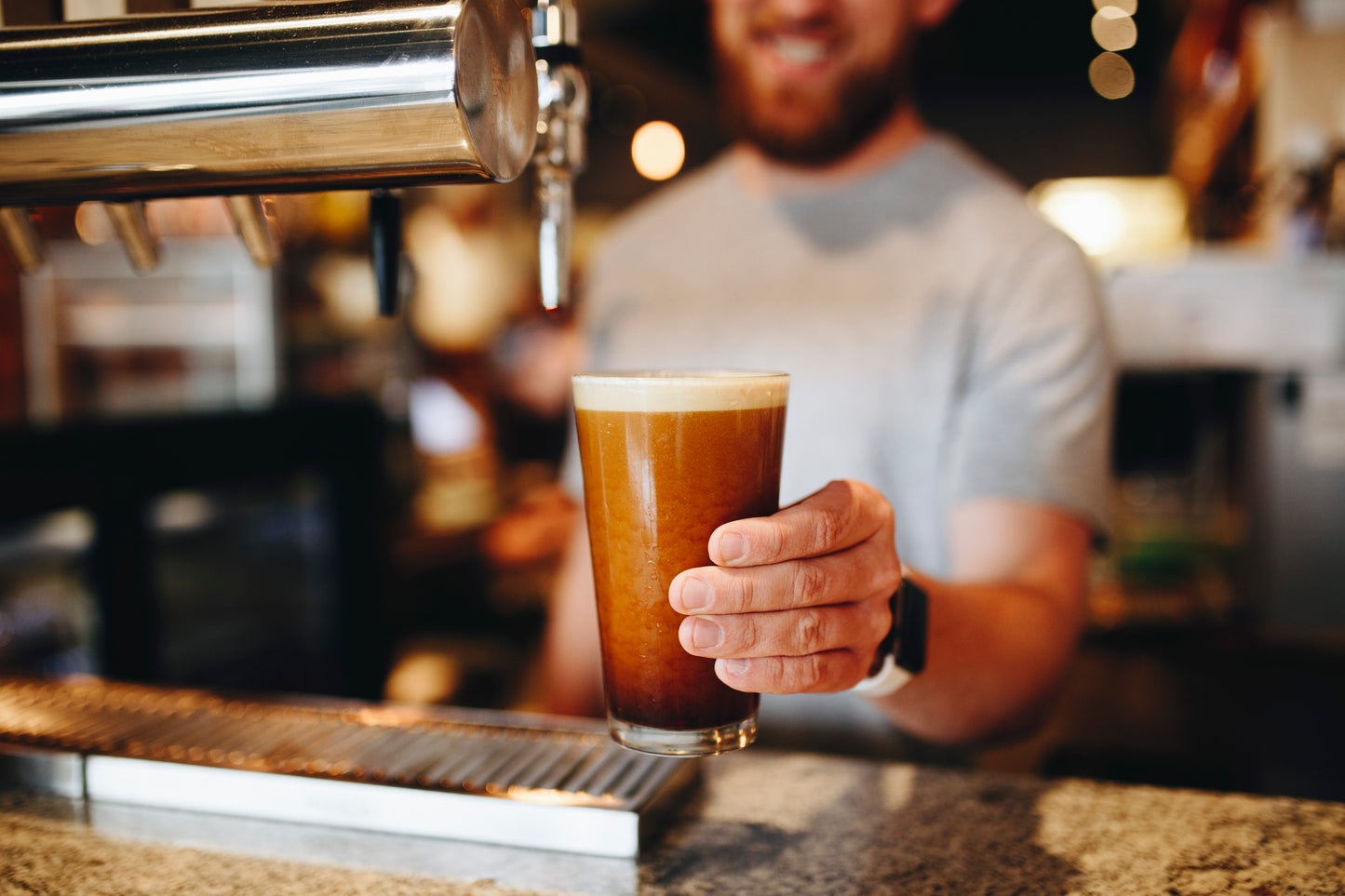 For any business serving draft beverages, consistency and quality are paramount. Whether you run a bustling bar, a trendy cafe, or a popular restaurant, the need for on-trend, leading edge beverage offerings cannot be overstated. Nitro Infused beverages have become an expectation and not an exception on today's beverage menus. Nitro infusion has always been a challenge with long draw draft systems because the beverage never meets expectations. This is where the Nitro Infuser POD (Point of Dispense) from Enhanced Beverage Solutions enters the picture.  The Nitro Infuser POD removes all the challenges associated with long draw draft systems and provides the perfect nitro pour time and time again.   In this article, we'll delve into the world of Point of Dispense Nitro Infusers, exploring their benefits, applications, and how they can enhance your beverage offering.
The Long Draw Draft System
Before we dive into the specifics of the Nitro Infuser POD, let's understand the long draw draft system. This type of draft system is ideal for businesses that need to serve draft beverages over a significant distance, such as from a keg room to a bar or multiple tap points. It requires a complex setup involving long lines and gas systems to maintain beverage quality, but it can be challenging to maintain consistency and carbonation throughout the system.
Introducing the Nitro Infuser POD
The Nitro Infuser POD from Enhanced Beverage Solutions is a game-changing solution for businesses utilizing long draw draft systems. POD stands for "Point of Dispense," and it is designed to enable your long draw to dispense the perfect nitro dispense in a repeatable format. 
Let's explore the key features and benefits of the Nitro Infuser POD:
Consistent Nitro Infusion: One of the primary challenges with nitro infusing long draw draft systems is maintaining proper gas infusion levels in the long beverage lines. While we like to think we are smart, we are unable to change physics and gas and beverage will eventually separate. By moving the nitro infusion to the faucet (Point of Dispense), we eliminate any gas/beverage separation and dispense the perfect nitro infusion.
Improved Taste and Quality: With the Nitro Infuser POD, your customers will enjoy all the advantages nitro infusion brings to the beverage. This includes a subtle sweetness, slight creaminess, and less acidic beverage.  This technology ensures you will be dispensing nitro infused beverages your customers will rave about.
Reduced Waste: As a business owner you are always looking for ways to eliminate waste and reduce your beverage costs. Inconsistent nitro infusions result in dumping beverages, increased product cost and revenue losses. The Nitro Infuser POD minimizes waste and increases profits by delivering a consistently high-quality product every time.
Customization: The Nitro Infuser POD allows for precise control over nitro infusion levels, so you can tailor each beverage to match your desired taste and style. This allows for proper nitro infusion levels across a wide range of beverages.
Applications
The Nitro Infuser POD is a versatile solution that can be applied to a variety of beverages, including:
Beer: For bars and breweries looking to serve the freshest and most on-trend nitro beer, the Nitro Infuser POD is a must-have.
Tea & Tea Lattes: One of the fastest growing nitro infusion categories is tea and tea lattes. Nitrogen impacts the tea and provides an amazing drink for customers.
Nitro Cold Brew Coffee: Coffee shops can elevate their nitro cold brew game with perfectly infused nitro beverage using the Nitro Infuser POD.
Cocktails: Craft cocktail bars can ensure their drinks are consistently carbonated and flavorful.
The Nitro Infuser POD from Enhanced Beverage Solutions is a technological marvel that has the potential to transform your long draw draft system into a pinnacle of nitro infusion consistency and quality. By eliminating the challenges inherent to nitro infusing long draw draft systems, the Nitro Infuser POD will provide you with the perfect nitro infused beverage and amaze your customers every time.
Whether you are in the business of beer, tea, nitro cold brew, or cocktails, the Nitro Infuser POD is a powerful tool that will help you stand out from the competition. Say hello to a new era of beverage excellence and up your beverage menu with the Nitro Infuser POD. It's time to elevate your beverage game and impress your customers with unparalleled quality and taste.